"I am not a champion of lost causes, but of causes not yet won." – Norman Thomas
Norman Thomas: a vignette
This vignette of Norman Thomas appeared on Wikipedia, although unfortunately it is not encyclopedic and so has no place there. So, for the sake of posterity, and without any claim about its authenticity, I paste it here:
Norman Thomas was a family friend, I saw him every year in my youth at my godfather's Christmas Party in NYC. In 1953 I wasn't there and he asked my mother where I was. It was a formal time, she said Jonathan has matriculated at Princeton. He said "you know, Mrs. Murphy, I'm a Socialist – but I'm awfully glad I went to Princeton". At another time he said that he had never changed his views, and that many of the things he advocated were in Mr. Eisenhauer's platform.

Finally, may I add, that I sang with the Princeton Tigertones for his Fiftieth Princeton Reunion in 1955. There were but a couple of dozen of them there, but all shed a tear as we sang the old college songs of their time. Our eyes got a bit damp also. At my Fiftieth we had nearly 300, and that reflects the change of life span that has come about since his graduation – and that is in part because of men like him who dedicated themselves to promoting justice.

Mr. Thomas was a gentleman of convictions, and consistency. This writer is a conservative who doesn't agree with all the views of Mr. Thomas – but who has the greatest respect for the man. He sought justice for all as a principle, he had no personal agenda for power. I often picture that gentle man in my thoughts, even though I'm in opposition to his politics. We shared a goal, but differed on the means to it – I wish he were here now so I could argue with him (gently), I was too young do do so when I knew him.
*Mark Twain on the French revolution (1898)
*Eugene Debs on immigration (1910)
*Mark Ruffalo channels Eugene Debs on war.
*May Day Song and Dance – Elizabeth Gurley Flynn (1939)

New publications on radical history:
Under the Blows of the Counterrevolution by Nestor Ivanovich Makhno (Black Cat Press):
Nestor Makhno (1888-1934) was a peasant anarcho-communist who organized an experiment in anarchist values in practice in southeast Ukraine during the Russian Revolution and Civil War.
This is the second volume of his memoirs, originally published in France in 1936 and published in English here for the first time.

Under the Blows of the Counterrevolution describes Makhno's odyssey through revolutionary Russia in the spring of 1918. Driven from his Ukrainian village by a German invasion, he wandered through a nation torn by civil war, encountered various remarkable personalities, and survived hair-raising adventures.
This volume has interested historians mainly because of Makhno's account of his interview with Lenin, but it also contains much valuable eye-witness information about a period of Soviet history which was later almost completely rewritten in officially sanctioned accounts.
The book (214 pp.) includes the original preface and notes by Makno's sometime colleague Vsevolod Volin together with photos, maps, glossary, explanatory notes, appendix, etc. English translation and editing by Malcolm Archibald..
Avtonom #31:
A Russian libertarian communist journal. From the English summary:
Page 56: Notes without a celebration. Pyotr Ryabov commemorates KAS (Confederation of Anarcho-Syndicalists) in occasion of 20th anniversary of the important but short-lived organisation, which once united vast majority
of all anarchists in the former Soviet Union.
Page 60: Thimbles of the history. Interview of historician Valery Stolov on controversial presidential commission against "falsification of history", which echoes Soviet-era politics of politicization of historical science.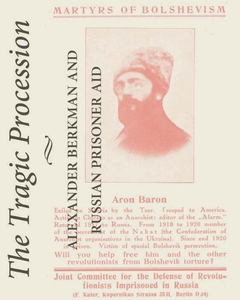 The Tragic Procession: Alexander Berkman and Russian Prisoner Aid:
Newish from the Kate Sharpley Library, and reviewed here.
Karl Marx: a Bibliographic and Political Biography:
Frank Thomas Walker's magnum opus finally published. (H/t Snowball.) Excerpt 2, tantalisingly, is on Bakunin.
From the archive of struggle:
Nestor Makhno archive:
A major rehaul, with new texts in Arabic, Bulgarian, Croatian, Czech, English, French, Greek, Hungarian, Italian, Macedonian, Russian, Spanish and Ukrainian. English highlights:
*Vyacheslav Azarov: The Kronstadt Revolt – the Gulyai-Pole Connection
*Emma Goldman: Living my life (extracts)
*Daniel Cohn-Bendit and Gabriel Cohn-Bendit: The Makhno Movement and Opposition within the Party
*Workers Solidarity: Leah Feldman
*Nick Heath: Piotr Arshinov; 1921: The Maslakov mutiny and the Makhnovists on the Don; Kobets: The Makhnovist playwright.
*Leon Trotsky: Secret Order No.96/s
Robert Graham:
*Errico Malatesta: Anarchy (1891)/Part II.
Anarkismo: